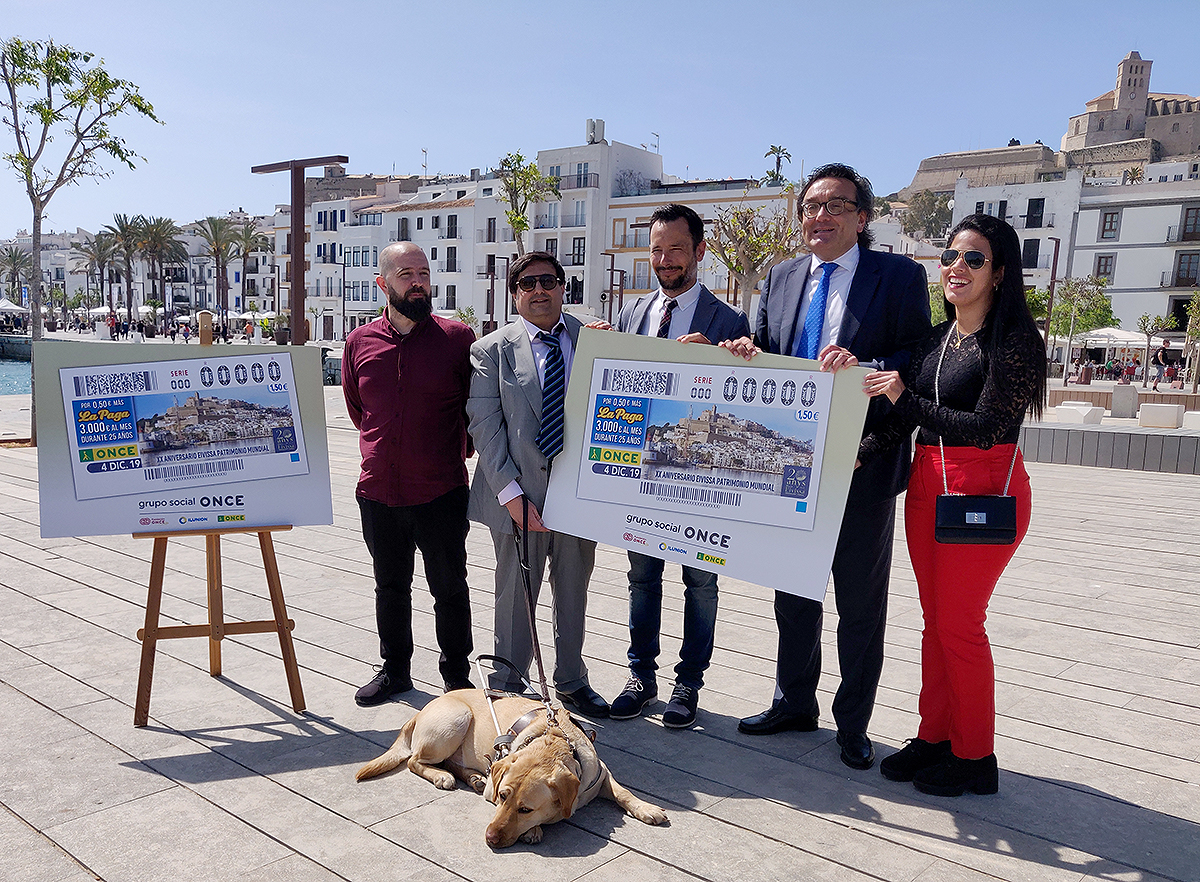 The National Organization for the Blind (ONCE) will illustrate its lottery coupon of December 4 2019 with a photograph of Ibiza, an image that adds to the commemorations of the 20th anniversary of the declaration of the neighborhoods of La Marina and Dalt Vila as World Heritage sites. The date on which the coupon will be issued, of which more reproductions will be made, coincides with the date on which Unesco made the decision, in its 1999 plenary, as highlighted in the presentation of the design of this coupon in the plaza de es Martel, attended by the mayor of Ibiza, Rafa Ruiz, the councilor for Culture and Heritage, Pep Tur, and the ONCE representatives in the Balearic Islands and the Pitiusas.
Rafa Ruiz has pointed out the good predisposition that the local government has had towards the demands and needs for people with visual impairment and recalls the project for a pathway for the blind, which is now being worked on to be implemented in the neighborhood of Can Misses. For that reason he is grateful that the ONCE chose to have on its coupon "the most international and recognizable image of our city".
The territorial delegate of the ONCE in the Balearic Islands, Josep Vilaseca, has put  value on the collaboration maintained during the years with the Town Council of Ibiza. He recalled when "one of the first houses of new design" was installed in the city; more sustainable and accessible. "Now we can celebrate this good predisposition" with a coupon, that as he highlighted, more than 5.5 million reproductions will be made.
For his part, the director of the organization for the blind in Ibiza and Formentera, Mariano Torres, highlighted the coincidence of the date of the coupon with the declaration of Ibiza, the Necropolis of Puig des Molins, the sa Caleta site and the meadows of posidonia.
The presentation of the coupon was also attended by the territorial councilor of the ONCE in the islands, Patricia Macias, who outlined the important contribution of buying the coupon to finance initiatives such as training children with visual impairment or adapting working conditions for the blind. That is why she thanked "the fidelity of Ibizans to our products".