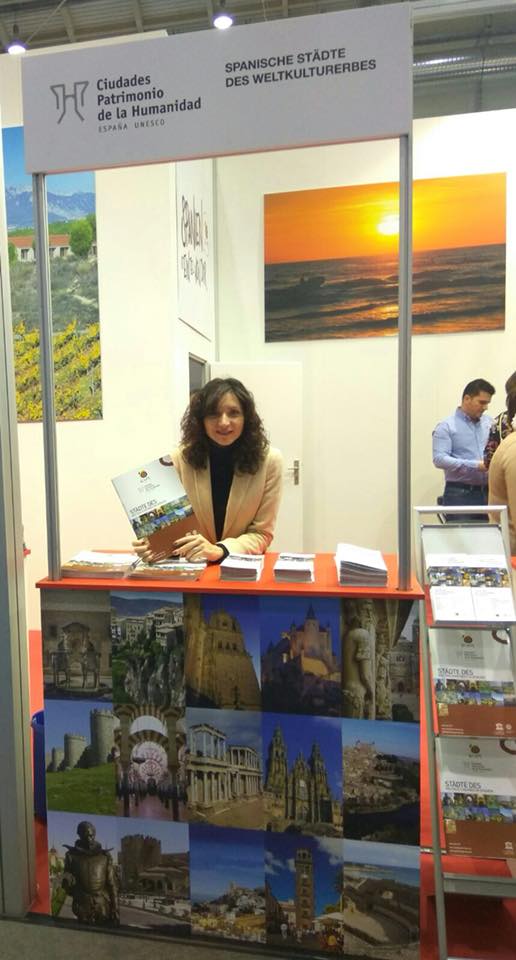 Spain's Group of World Heritage Cities are being promoted in the German market, at the tourism fair of Hamburg.
The World Heritage Cities continue with the promotional activities included in the Operational Plan for 2018 with a new international campaign to attract visitors at the German tourism fair, Reisen Hamburg.
The fair, which takes place from 7 to 11 February, focuses mainly on appealing to the end consumer and it is the most important event in the tourism sector in the North of Germany, with an average of 800 exhibitors and 70,000 visitors.
The Heritage Cities will have their own space at this event, in the Turespaña stand which is to be coordinated by the Berlin Tourism Office OET, and the Group's official will present the tourist, heritage and cultural attractions of the 15 cities.
The German market:
Germany is one of the European countries with the strongest demand for tourism, where holiday travel is a household spending priority. Spain is the foremost destination for Germans travelling abroad, with a market share of 14.8%, followed by Italy (8.2%), Turkey (5.6%) and Austria (4.6%).
The number of German tourists has risen gradually since 2011, apart from a slight fall (-1.5%) in 2015. Nearly 13 million German tourists came to Spain in 2017, which puts Germany in third place, practically at the same level as France (14.9%). There was growth in the number of tourists (+6.9%), in their spending (+5.7%) and in the number of nights in hotels (+7.3%). ).
Operational Tourism Plan for Spain's World Heritage Cities Group
The Operational Plan for the Group for 2018 continues to promote, represent and market the 15 cities under the hallmark of exceptional quality that comes from being listed as a UNESCO World Heritage Site. On this occasion, the Plan also celebrates the 25th anniversary of the creation of the Group with a number of events and special commemorative activities. 2018 is also the European Year of Cultural Heritage.
Besides carrying out a number of direct presentations and exhibitions, the Cities will feature in the main national and international fairs and events of the sector, in the most important of both emerging and consolidated markets; Fitur (Madrid), Salon des Vacances (Brussels), Reisen Hamburg (Hamburg), Salon Mondial du Tourisme (Paris), ITB Berlin and WTM London, ITB Asia (Singapore), JATA Tokyo and CITM China, among others.
Spain's Group of World Heritage Cities is a non-profit association that was founded in 1993 to enable these 15 cities, whose historic centres have all been recognised by UNESCO as World Heritage Sites, to work together in their protection and to promote their cultural value and appeal for tourism. The cities are Alcalá de Henares, Ávila, Baeza, Cáceres, Córdoba, Cuenca, Ibiza/Eivissa, Mérida, Salamanca, San Cristóbal de la Laguna, Santiago de Compostela, Segovia, Tarragona, Toledo and Úbeda.