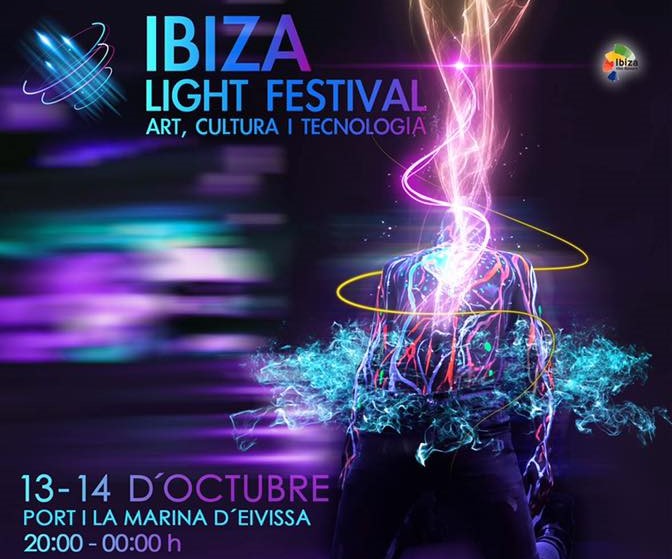 The second edition of Ibiza Light Festival will take place on the 13th and 14th of October, and features 17 art installations throughout La Marina, Puerto de Ibiza and Dalt Vila. This year, there will be more than 20 local and international participants.
Head of Participation, Carmen Boned, has stated "it's one of the most important cultural, artistic and technological events on the island of Ibiza, and this year and will feature both new stages and ideas".
Vicent Torres, Head of Tourism on the Island, has highlighted that Ibiza Light Festival is a ludic and cultural event, promoted at the main global tourist fairs with the aim of creating a new incentive for families to travel to Ibiza during October.
For the promoters, one of the main objectives of this second edition is to improve the quality of the lighting and ensure the event's global outreach. It's for this reason that in addition to collaborating with local artists, this year's festival will involve artists from Switzerland, France, UK and Italy, amongst others.
In total, more than 20 artists and collaborators will play a part in the events and installations that will take place on Friday the 13th and Saturday the 14th of October, from 8pm onwards.
In addition to these events, there's also a photography competition that has been organised via Instagram using the hashtag #concursoibizalightfestival, with a picture by Nika (worth €1300), up for grabs. The festival team will shortlist the best photos and the public will then vote for the winner. There will also be a raffle for the other participants, offering them the chance to win one of five light belts.
One of the most spectacular features will be the 'video mapping', projected onto Ibiza's historic walls from the Portal de ses Taulas, and where artists from Improbable Films and Joe Crossley have come together to represent the history behind their construction. The feature will be repeated every 30 minutes.
For promoters, the Ibiza Light Festival is an artistic and cultural event where light is the main influence, and functions as a form of expression for artists, using lasers, bulbs or videos to interpret light in its most basic form such as candles, all the way to technological advances such as laser video projectors.