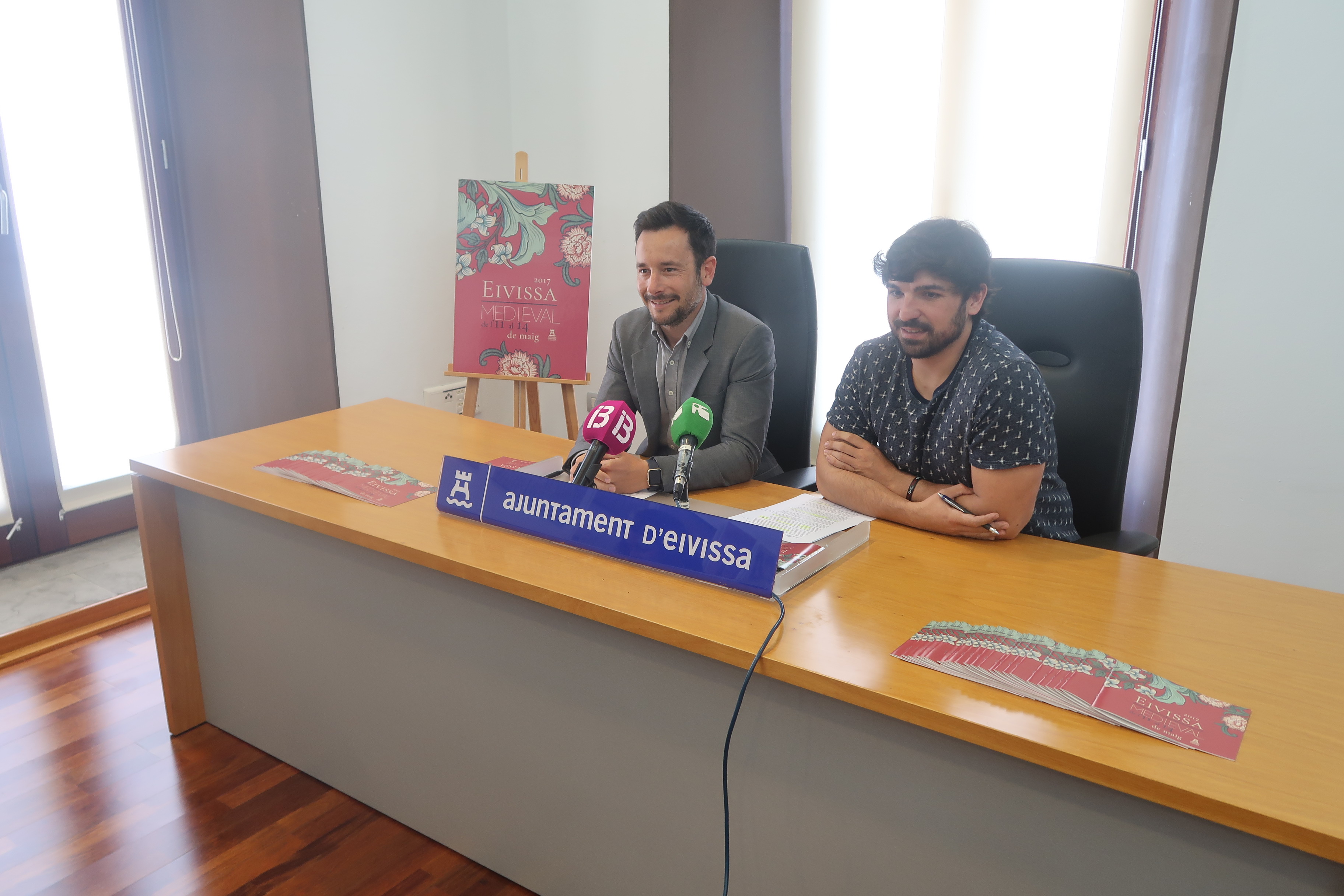 Rafa Ruiz, the mayor of Eivissa, and the Eivissa's Festivities Councillor, Agustín Perea presented the 18th edition of Eivissa Medieval, which will start next Thursday 11 May at 6:30pm, with an opening performance in Constitució Square next to Mercat Vell.
The mayor has pointed out that the cultural programme and events are very extensive this year. A focus has been placed on a diverse programme of cultural activities over four days with concerts, exhibitions, theatre and cultural set-ups on the street. Additionally, new for this year, there is an exhibition organised by Arxiu d'Eivissa.
In addition to the impressive cultural programme there are activities for seniors living in rest homes so they can enjoy a show just for them that will take place Saturday morning. Since this year there is no school holiday in the city, a children's activity has been organised for the students who would like to enjoy the fair that will take place on Friday morning.

The mayor of Eivissa also would like to thank the numerous volunteers for collaborating, since thanks to them a team has been organised to attend to the elderly interested in enjoying Eivissa Medieval who are in rest homes while ensuring safety and care.
Eivissa Medieval will start on Thursday 11 May at 6:30pm with a show prepared especially for the occasion by the Morboria theatre company, winner of a MAX prize, the most prestigious in the field, which will take place Constitució Square in Mercat Vell. The actors from this theatre company will perform a play depicting the history of the building of the Eivissa city walls in a fun and entertaining way.
Over the four days of Eivissa Medieval numerous cultural events will take place and there will street entertainment with more than 17 local, national and international groups performing acrobatics, music and theatre and characters, all of which will be moving around the walled city and to the different areas and streets of Dalt Vila.
Additionally, over the four days of Eivissa Medieval, all of the cultural facilities and museums in Dalt Vila are open for everyone interested in visiting them; just one more reason to enjoy the fantastic quarter of Dalt Vila.
Furthermore, the Festivities Councillor Agustín Perea has pointed out that this year for the first time there is going to be a competition between local artisan stands. The competition will feature two categories: One is the for the stand decoration, where all of the registered artisans can participate and the other category is for artisan products, where everyone can participate except for those dedicated to serving food and/or drinks. There will be two 300-euro prizes for each category.
Also worth mentioning are the large amount of stands which will be found throughout the traditional Eivissa Medieval market area: 150 in all, of which 60 are for local artisan products from Ibiza, 15 craft workshops (12 for demonstrations and 3 which are participative) featuring: Iron working, pottery, wicker working, incense making, wood working, arrow making, Arabic calligraphy, paper, and smelting.
As far as the cultural programme, four exhibitions are planned: a Leonardo da Vinci one, Gutenberg's press, exhibitions of Ibizan weapons and history, as well as the exhibition that will take place in the hall of the Refectory, organised by the Arxiu Històric d'Eivissa, titled "Feina i menjar" ("Work and Food") which you will be able visit from 11am to 7:30pm.
The cultural programme includes theatre, concerts and puppet shows which will take place over the course of the festival each day from 11am to 2:30pm and from 6pm to 11pm. Of those shows, the councillor has highlighted the "Bestiari Medieval de Mallorca", which will take place on Saturday 13 May at 10:30pm. For the show a correfoc will be performed together with "Els Dimonis", the Associació Vuit d'Agost and musicians from Rota Temporis in Reina Sofía park.
Eivissa Medieval has been divided into 10 areas which range from Reina Sofía park, with medieval exhibitions and games as well as night shows and activities for young children, to Plaça del Parc, with attractions for children and exhibitions of Leonardo da Vinci's inventions.
There will be traditional Ibizan workshops in Plaça de Sa Font and Antoni Palau street, as well as in Constitució Square by a variety of artisans as well as food stands. Starting in this part of the city and in the whole quarter of Dalt Vila and the bulwarks, until Catedral Square you'll be able to find shows, activities, workshops, food zones, medieval camps, falconry exhibitions and demonstrations over the four days of the fair.
Furthermore, the bulwark of Sant Pere will feature the medieval writing, coining, arrow making and incense preparation and perfume workshops. There will also be a medieval camp, a themed area with military tents, where you will be able to see how people dressed from the time period, combat, horse training, archery and lots more.
In the bulwark of Sant Joan you will find an exhibition on the medieval history of Ibiza, with participatory workshops, an arms exhibition, as well as the now traditional falconry exhibition on Thursday at 8pm and Friday, Saturday and Sunday at 12:30pm and 7pm.
For children a number of puppet shows have been prepared, in Catedral Square, in the cloister of City Hall and in the bulwark of Santa Llúcia; exhibitions of medieval fighting and combat in the bulwark of Sant Pere and medieval horse games in Reina Sofía park, as well as a number of shows for children (up to 5 sessions daily) also in Catedral square.
Dalt Vila will have more than 4,000 Christian, Arab and Hebrew themed decorations spread throughout the quarter.
As far as the free bus lines, for the duration of Eivissa Medieval two have been added which will link the parking areas of Gesa, Multicines and Es Gorg, and even Es Soto. This year, again for the first time, the bus starts right on Thursday afternoon. The schedule starts on 11 May from 6 to 11pm and for the rest of the days from 10am to 3pm and then from 5 to 11pm.