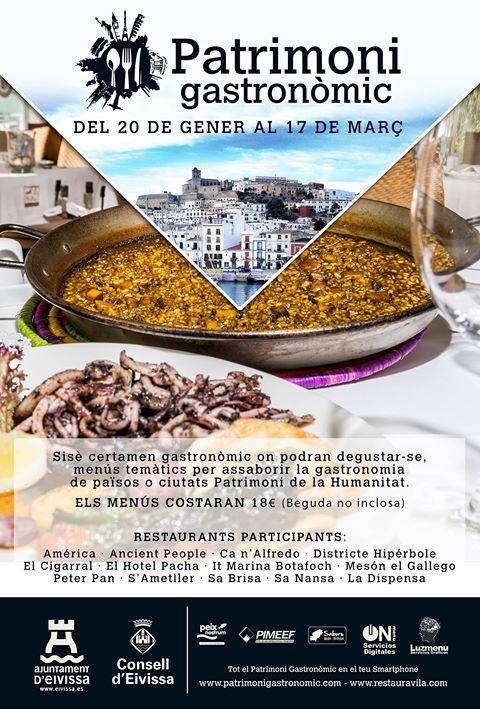 The Ibiza Town Council has set in motion a new edition of the "Culinary Heritage" (Patrimonio Gastronónmico) initiative, which will end on the 17th of March and for which 13 local restaurants have already signed up.
This is the sixth edition of the Culinary Heritage initiative, an event during which themed menus are available for those who wish to sample the culinary offerings of cities and countries that have been declared UNESCO World Heritage sites.
The themed menus have a fixed price of 18 euros (drinks not included) and comprise an entrée, a main course and dessert. The initiative boasts the collaboration of PIMEEF, the Federation of Small and Medium-sized Enterprises of Ibiza and Formentera.
The objective of the initiative is to raise public awareness regarding Ibiza's culinary heritage while simultaneously offering exposure to restaurants that remain open in the town during the winter months. The participating restaurants in this edition are Sa Brisa, Ca n'Alfredo, El Hotel Pachá, Districte Hipérbole, América, Mesón El Gallego, La Dispensa, Sa Nansa, s'Ametller, Peter Pan, Marina Botafoch, El Cigarral and Ancient People.
This edition also includes two culinary open days on Wednesday and Thursday the 22nd and 23rd of February, both of which will be directed towards professionals and lovers of the culinary arts and will feature "Carnival" and "Lenten" Cuisine courses, respectively.
The local Councillor for Tourism and Commerce, Gloria Corral, the Vice President of PIMEEF, Joan Riera and the General Secretary of PIMEEF, María Ángeles Marí, were joined by a number of restaurant owners for the presentation of the Open Days. Councillor Gloria Corral expressed her thanks to the sector in general for their efforts in creating a tourism-related product that has garnered the recognition of visitors and residents alike.
On another note, at midday on Sundays during the month of March aperitifs and appetisers will be available in the port area thanks to the "Peix al Port" (Fish at the Port) programme organised by port-side restaurants; a programme that features tastings of tapas and dishes created using local fish and seafood produce.