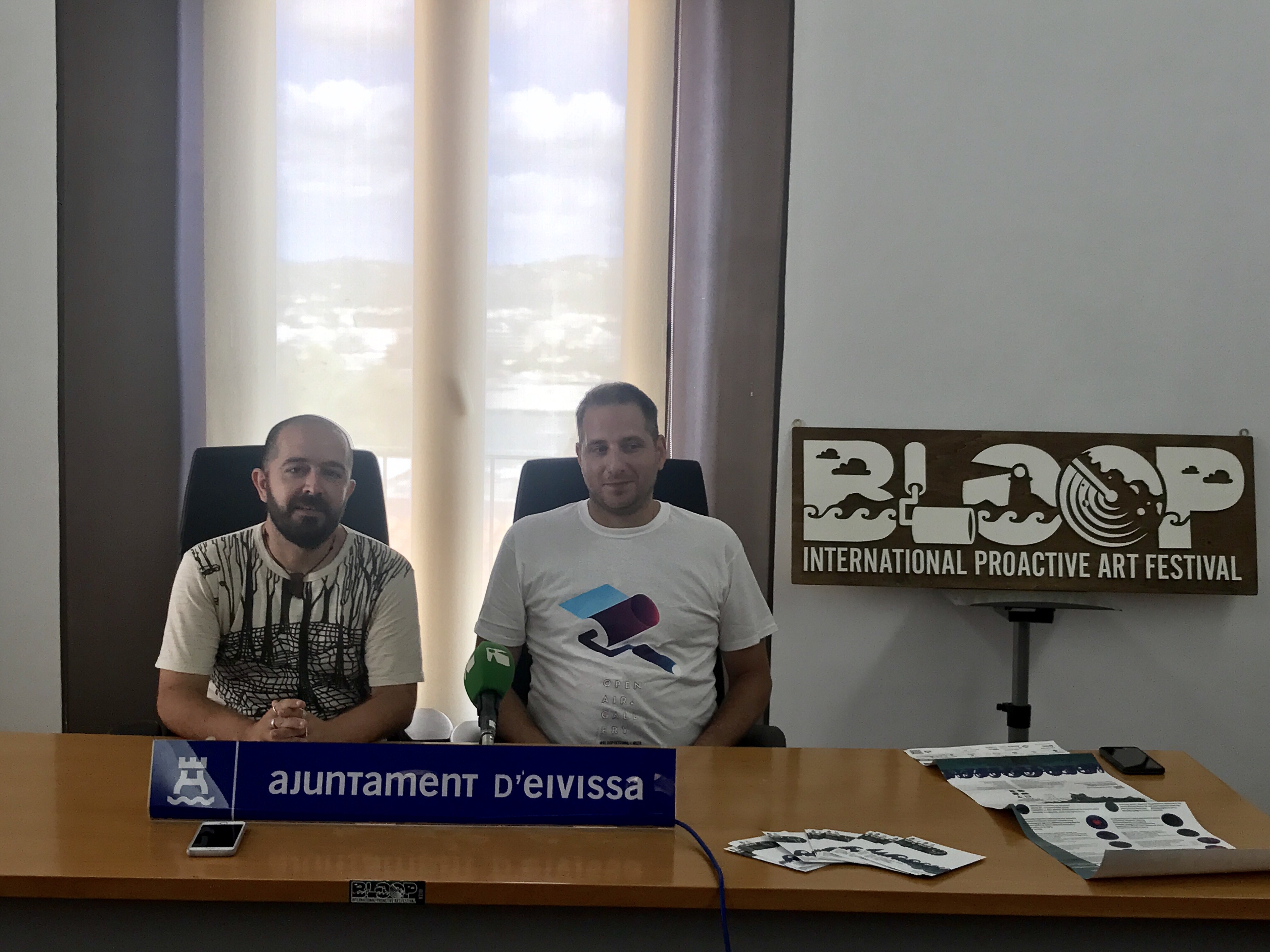 The seventh edition of the Bloop Festival will take place in the city of Ibiza between the 23rd August and 9th September, with art exhibitions, group installations, performances and activities for kids
The artists selected from different disciplines taking part in this edition will tackle the subject of change as the central theme when creating their works of art. Two of these works have already been made in the city of Ibiza. One is the wall mural that the artist INO has created on the façade of the school of sa Bodega and the other is the work of the Mexican artist SPAIK in the access tunnel to Soto.
Events:
Inauguration of the Bloop Festival:
This will take place on the 23rd August in the Cloister of Ibiza Town Hall at 8 o'clock.
It will consist of three artistic performances: A pyramid performance by Pascale TOTARO and Giuseppe Taccini; a video installation by Lo Spino and an installation of work by Benni Bosetti with music by Dizconected.
These works can only be visited on the 23rd August from 8 o'clock in the evening until midnight
Music and technology workshop for children: From 19:00 on the 25th August there will be a music and technology workshop for kids in the Parque de la Paz, in which the little ones can play around with Skoog, a touch device in the form of a cube.
On the 26th August, the kids workshop will be held again at Forma, in Cala de Bou, in Sant Josep de sa Talaia.
Bloop Festival in the Port of Ibiza
The programme of artistic interventions and activities will also include the Port of Ibiza with a show by Atelier Biokip and the Portal de ses Taules, with a group installation by the artists Silva Ramacca, Pineapple Crocodile and Montse Navidad.
Installations in Ibiza
Ibiza will also be the setting of a collective installation in which more than 100 artists will take part, produced by LatoCorto with Sr. Mini as curator.
The city of Ibiza will be the setting for 'Geopolital Changes' by Martin Hachman and Daniel Kurniczak with two installations that present change through sound.
International design meeting
This year's edition of the Bloop festival will also host DesignerBlock by Bud Moore for the first time. This is the first edition of DB in Ibiza, an international design meeting that will be held in Cala de Bou and which will extend into the municipal area of Ibiza next year.
Openair Gallery Bloop
Like previous years, the Festival will feature the Openair Gallery Bloop of urban art across the whole island with the participation of international artists such as Spaik, Okuda, Aec, Marlaky Isaac Cordal and Agostino Lacurci, among others. This year the organizers of the Festival will release a smartphone app to promote it.
The full programme and timetable for the artistic activities for the Bloop International Proactive Art Festival can be consulted online at: www.biokiplabs.com/bloopfestival2017.