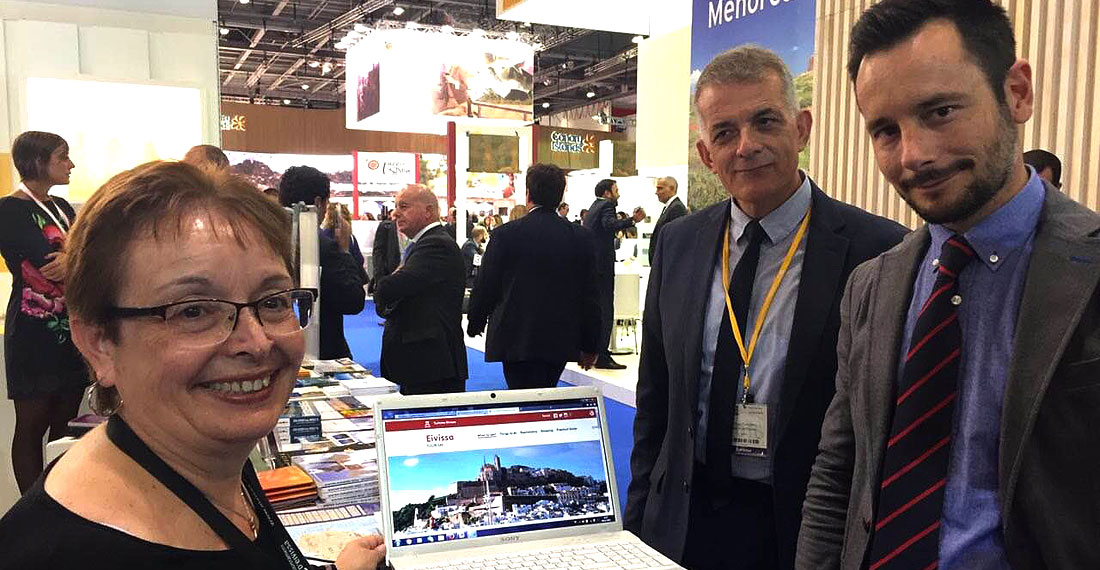 At the World Travel Market tourism conference in London the Eivissa Town Council has presented a new tourism website in four languages (Catalan, Spanish, English and German) in an effort to address a noted shortcoming in the area of tourism promotion.
The mayor of Eivissa, Rafa Ruiz, explained that up until now tourism content was included in the town´s web page alongside information intended for residents, making it difficult for potential tourists to locate the details that interested them. This new web page (https://turismo.eivissa.es) specifically targets visitors and will be subject to constant updates, connected to social media networks and include a calendar and blog containing details of scheduled activities and events in Eivissa, said Ruiz.
Meanwhile, the Councillor for Tourism of the Eivissa Town Council, Gloria Corral, has distributed newly printed material containing details of the programme of activities for the town for the coming year. The material includes many confirmed dates, so visitors will be able to plan their trip well in advance. The brochure also features information on the twelve hotels in the area that open year round.
Corral specifically highlights the Marítimo hotel, which is the first bike-friendly hotels in the area and offers a customised service for those visitors who travel with a bike or wish to rent one during their stay. The importance of the renovation of the hotel Montesol for the town has also been highlighted, primarily because the hotel has organised a specific programme of activities for the winter months as a means of offering enriched experiences for its guests.
Finally, Ruiz and Corral confirmed their attendance at an international UNESCO presentation entitled "The Route of the Phoenicians", an international proposal in which a number of Mediterranean countries, cities and towns will attempt to raise awareness regarding the importance of the legacy handed down by the Phoenicians and develop a series of specific tourist-related products associated with this legacy.
Eivissa is part of the proposal Route 3, which begins in Marseille and finishes in Cadiz and recommends spending two days in Eivissa in order to visit the best-preserved Phoenician necropolis in the world in addition to other sites such as the Puig des Molins Museum or the archaeological site at Sa Caleta.