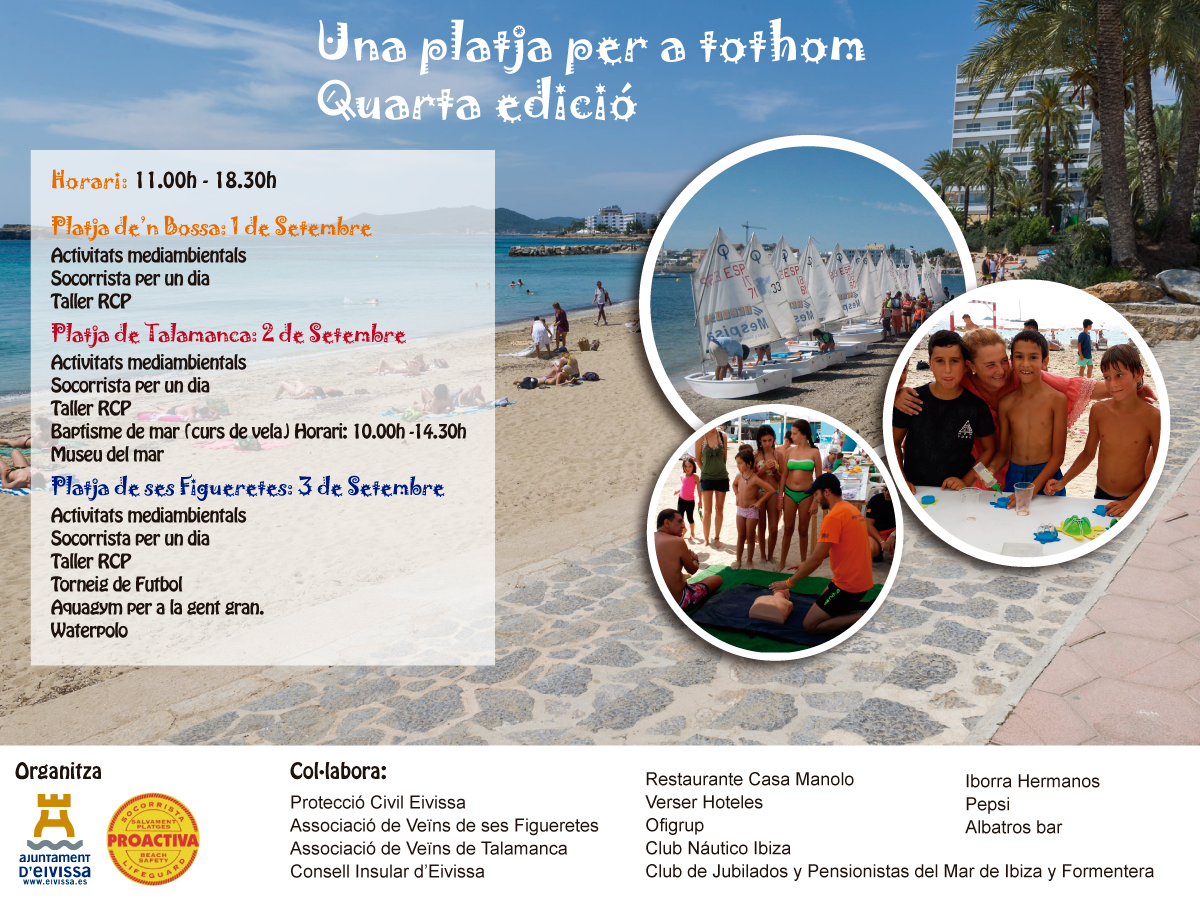 The fourth edition of the campaign "A beach for everyone" offers awareness-raising activities for kids this weekend, with environmental workshops and sports activities for all ages, as well as beach safety and prevention courses.
Activity programme:

On Friday 1st September: Environmental workshops, "lifeguard for a day" course in which lifeguards teach safety measures for the beach and a Cardiopulmonary resuscitation (CPR) by the Civil Protection Service.
Place: Platja d'en Bossa
Timetable: From 11 to 18:30
Free activity.
Saturday 2nd September: Environmental workshops, the "lifeguard for a day" course, the cardiopulmonary resuscitation training, an exhibition in the Museo del Mar and, for the first time, a beginner's sailing course offered by the Club Náutico de Eivissa and the municipal sailing school.
Place: Talamanca
Timetable: From 11 to 18:30
Free activity.
Sunday 3rd September: Football tournament, an aquagym session for senior citizens and a waterpolo match offered by Club Natación Eivissa and the Club de Waterpolo de Sant Josep.
Place: ses Figueretes
Timetable: From 11 to 18:30
Free activity.
Also, the whole weekend will be the setting for an awareness campaign on the need to keep our beaches clean, with the installation of giant nutshells and cigarette butts, to make people more aware of the problems.
For the Environment Councillor, Montse García, awareness about recycling waste at the beach and safety measures, with cardiopulmonary resuscitation workshop and the experience of being a lifeguard for a day will make our town's beaches friendlier and safer places for all users. "It is important to be aware from an early age that the beach is a place for everyone, and that we always have to look after the environment and take precautions. This is why the lifeguards of Proactiva and the volunteers of the Civil Protection Service of Eivissa will be carrying out these activities aimed at all users".
The councillor has thanked all the associations, entities and businesses who have collaborated in this environmental initiative for their involvement.