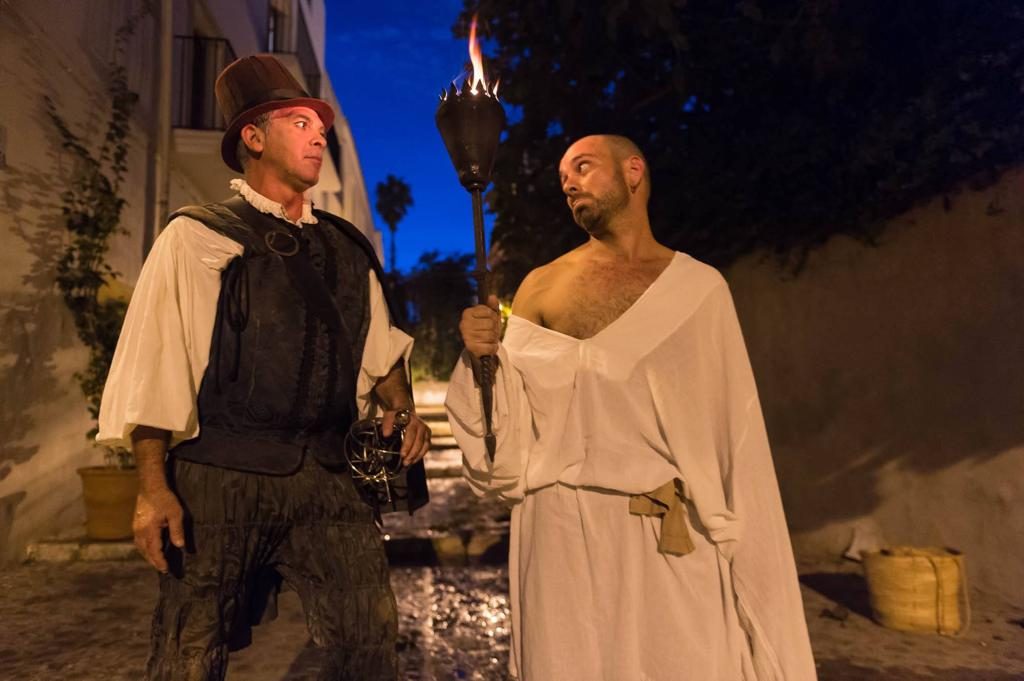 DRAMATISED VISIT TO DALT VILA
One of the most interesting and fun ways to learn about the city's historic centre: Dramatised visits to Dalt Vila. On this route you will travel in time to see how people lived at the time when the walled enclosure was built, with explanations to help you understand the society and lifestyle of the Renaissance.
PLACE:
Portal de Ses Taules · Dalt Vila
DAYS AND TIMES:
Confirm timetables at the Tourism Office.
BOOKINGS:
PRICES:
Children under 7: free
Children aged 7 to 16:  5 euros
Resident children aged 7 to 16: 2.5 euros
Adults: 10 euros
Residents adults: 5 euros
Over 65s, unemployed and students: 5 euros
Family groups of up to 4 members: 25 euros
Families with more than 4 members: 30 euros

DRAMATISED VISIT TO THE PUIG DES MOLINS NECROPOLIS
Take a walk through history and enjoy a different way to see the past of Ibiza from a new perspective. The different funeral rites performed at the site will be represented: Phoenician, Carthaginian and Roman rituals are shown in the context of the lives of the people whose destinies were in some way linked to the necropolis of Puig des Molins, the largest and best conserved in the Mediterranean.
PLACE:
Monographic Museum Puig des Molins Via Romana 31, Eivissa.
DAYS AND TIMES:
Confirm timetables at the Tourism Office.
BOOKINGS:
PRICES: